Coupeur de carte de visite pour la vente
Coupeur de carte de visite pour la vente
| | |
| --- | --- |
| Détails d'emballage: | Mécanique de dimension : 450 mm * 280 mm * 200 mm (L * W * H), poids : environ 40,5 Kg |
| marque: | Inhabilité |
| Lieu d'origine: | Guangdong, Chine (continent) |
Description du produit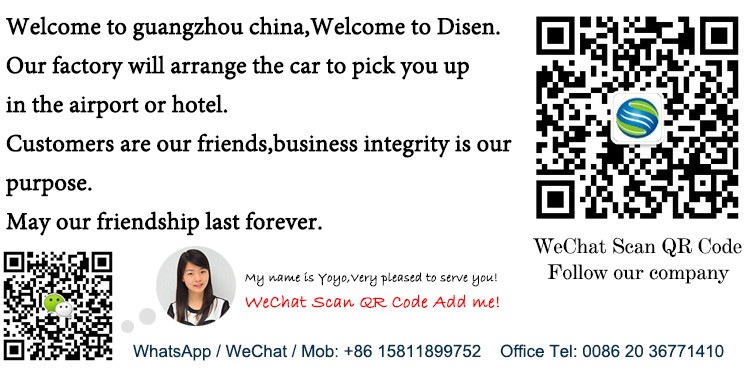 Customer First  Service First   

   
Way of cutting

Longitudinal: rolled cutting by a roller;
horizontal: cutting by long blade

Way of paper feeding

Automatic paper feeding in double rubbing

Size of paper

A4(297×210mm)

Thickness of paper

Laminated paper: the thickness of each laminating film should be no more than 0.1mm while that of the paper in middle should not exceed 0.25mm Common paper: 180g/m²----350g/m²

Cutting speed

For name cards, about 100pcs/3min

Cutting size

Longitudinal:( 89, 85, 90, 95)mm
Horizontal:(45; 50; 54; 90; 95; 127)mm;
or 40-150mm, customize)

Volume of paper

Maximum 12pcs (about 0.25mm thick) for name cards or total thickness 3mm

Volume of name card

180g/m² 90×2pcs 250g/m² 70×2pcs

Mechanical dimension

450mm×280mm×200mm (L x W x H)

Ambience of use

-15°C~+40°C humidity 35%~70%

Weight

About 40.5Kg

Power supply

AC 90~260V,50/60HZ, 0.5A
Customer First Service First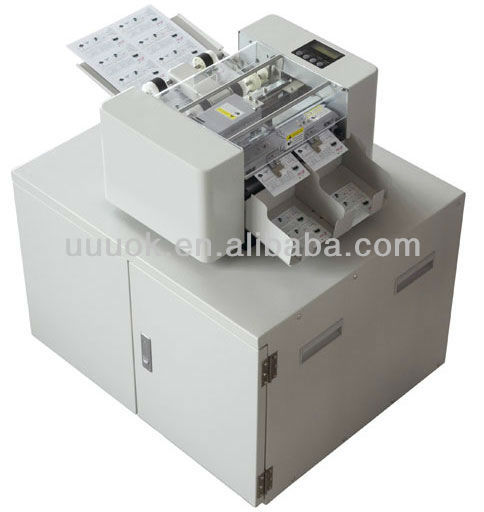 Business card cutter for sale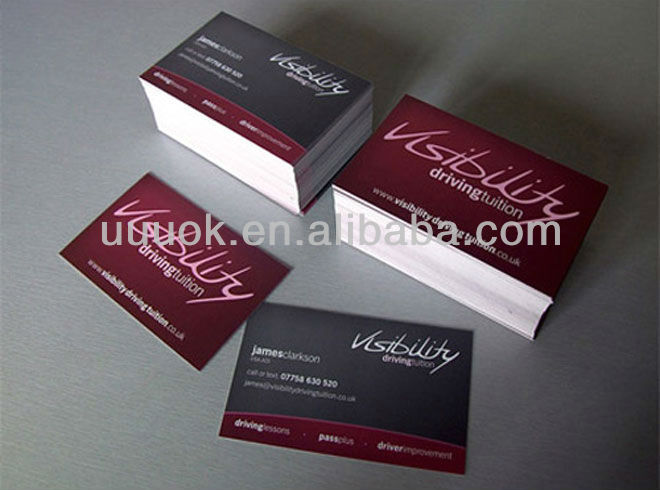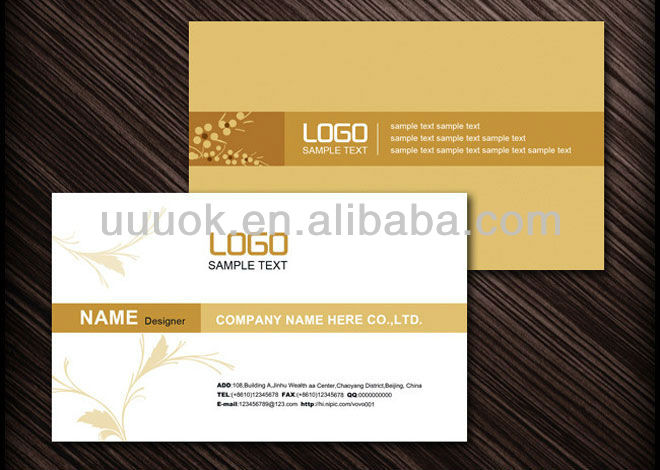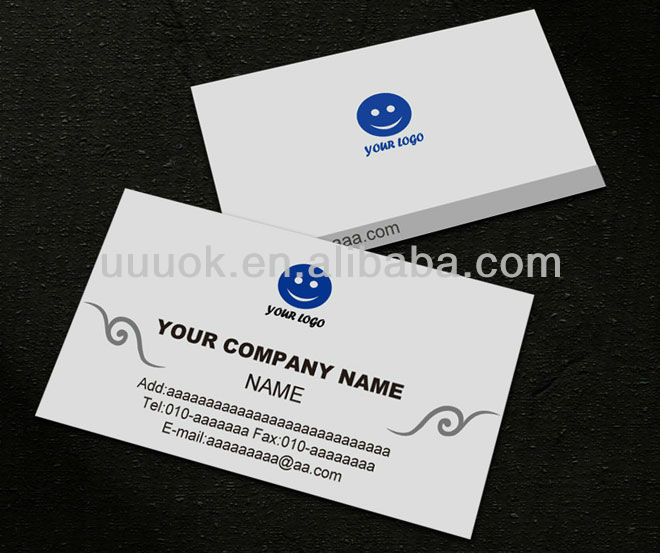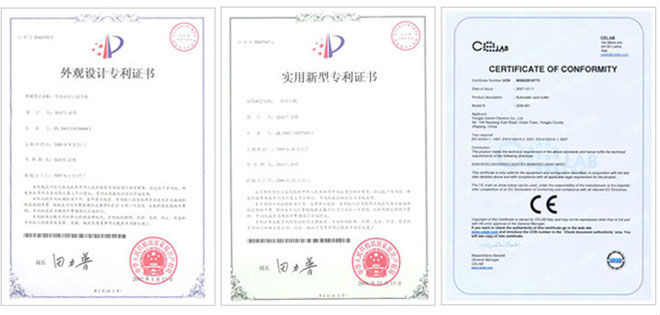 Customer First Service First      

 
Business card cutter for sale
Multi-functional Card cutter can cut A4 card into ten at one time,free of alignment and repeated frequent sheet feeding, it can process 15 sheets of 200g card at one time at most,which has an unparalleled advantage compared with the traditional semi-automatic type,it's included with specifications for five different sizes,besides ,it's provided with automatic sheet detection,LCD.
Durable blade, it's made of steel blade.
Time saving and labor saving.
Multi-function full-automatic, it's convenient to use.
High Precision, reasonable structure to ensure the card is cut accurately.
Electronic eye induction system and microcomputer control.
Unique unitary design of longitudinal cutter case,fast to replace.  
Automatic Name Card Cutter
It's flagship style, with multifunctional and full automatic cutter. It can cuts printed sheets of name cards or photos into cards size in one process, it fetches in advanced technology from foreign, it abroad apply in name-card\photo\cards\eligibility cards\invitation cards and so on, printable material. it has function of automatic and continuous form-feed, and it can cuts sealed name-cards, quick speed and extract for cutting and easy to operate.
Characteristic of product:
1.the style is sutra and decent, the frame is precision inside, capability is stable.
2.easy to operate and predominate.
3.it can work in with the craftword of laser print name-card and making colour spew name-cards.
Detailed Product Description.
1. Controlling by microcomputer
2. Convenient cutting,adjustable size at will
3. Special design of longitudinal cutting knife box is replaced at any time
4. Paper nature:photo,name card and all kinds of cards
5. Cutting mode:longitudinal, cutting with roll cutter;lateral, cutting with lateral cutter
6. Paper feeding mode:automatic paper feeding in a sole friction way.
Starting with A3 size or letter-size pages that have been printed with 10 cards on a page, can cut the pages into business cards, with unbelievable ease, speed, and accuracy. If your business needs to turn round business card jobs fast for your customers using your commercial digital equipment then there can be no better machine. No time wasting using a guillotine that cannot allow for image drift. Just pop the printed sheets into the automatic feeder and take the business cards from the exit tray. Better, much faster service for your customers and more profit for you!
1. Easy to operate - designed to operate simply at the touch of a button for selecting the cutting modes, such as paper size and trimming margin.
2. Unique Sharpening System - Unique automatic self-sharpening system
3. Ultra Long Life - Enables you to cut approx.
4. Easy set-up for different sizes of business card - Mechanical settings for the major card sizes and trimming margins are automatically adjusted at the touch of a button (cutting mode button).
5. Accuracy - The position of initial cutting edge in paper feed direction is so accurate that the cut line does not deviate from the correct line throughout the cutting operation. Correction of any potential cutting line deviation is enabled by the detection and alignment of the register line mark printed at the top of each sheet.
6. Easy maintenance - In case of a specific error, a code number is displayed on the display panel to facilitate identification of the source and help to eliminate it.
7. Economy - The cutter is 20 times more durable than that of some other cutters in this range. It can also make 10 business cards on A4 size or letter size sheet, in contrast to some other cutters that can make only 8 business cards on one sheet. (ln double cut mode).
8. Safety - For the safety of any and all personnel who will operate a reliable, safety Interlock system automatically stops operation while the top cover is open or if the paper waste disposal box is not set in its proper position.
9. Optional perforation and scoring device - Optional perforation device or scoring device can be easily installed in place of the cutter device for business card. The perforator enables raffle/draw tickets, entrance tickets etc. The scoring device Is a help to make greeting cards, half-folded business cards, membership
Customer First Service First       

 
Groupes de Produits : Matériel de bureau > Coupe-papier