Machine d'impression de la couleur unique de tampon haute vitesse
Machine d'impression de la couleur unique de tampon haute vitesse
| | |
| --- | --- |
| Délai de livraison: | 3 jours |

| | |
| --- | --- |
| Détails d'emballage: | Caisse en bois, Dimensions:700*360*1250mm(L*W*H) paquet, paquet poids : 75 Kg |
| marque: | Inhabilité |
| Lieu d'origine: | Guangdong, Chine (continent) |
Description du produit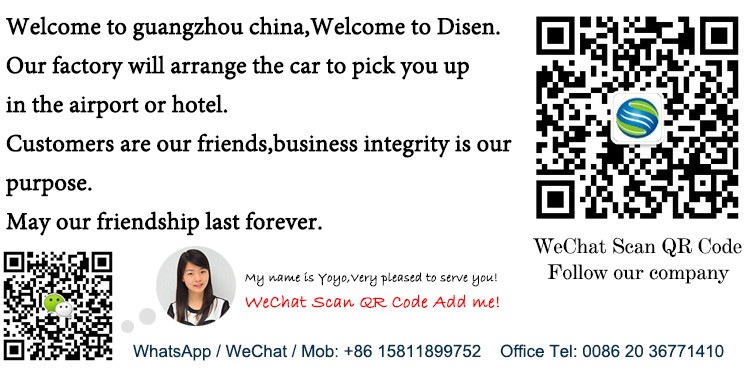 Customer First  Service First

       
Machine features:
1.With mirocomputer-controller, semi-automatic, utility function, and the operating procedures are flexible and reliable.
2.The hardened axle can bearing made by famous processor and the SMC Pneumatic Components from Japan are adopted to reduce the repair and maintenance,so that the unit is not worn wasily and service life of machine parts are extened largely.
3.It has seprating colloid head and is convenient for adjusting the speed of movement back and forth, and is applicable to different printing needs.
4.Base for each inking pan can be adjusted independently at X and Y angle, with accurate chromatograph and improved production effciency.
5.The body of the unit adopts the die-cast rack of aluminum alloy and is both portable and solid.
6.The safely rubber sheet and emergency cutof system of power supply are provided so as to make unit comply wirh the international industrial safety standards.
7.With multilevel-controlled, and is satistied with different requirement of the printing speed.
8.Use the oil cup to inking , pro-environment and easy todisassembly and assembly and clean. Economize the ink.
9.It is setted 4-digit number auto-counter, and is convenient for recording the quantity of the printing products.
10.The colloid head is not leave moulage when blank line printing, it is prevent from the printing ink to dry when we pause the machine.
11.It is setting the standard procedure and off-standard program, breakthrough the function of ordinary machine, unlimitied program to procure ink and printing.
Technical parameters:
The largest area of plate:100×200mm
Oil cup diameter:90mm
Oil cup trip:100mm
Max printing speed:1200pcs/hr
Air consumption:91litre/min(5bar)
Power:110/220V 60/50Hz 50W
Dimensions:700×360×1250mm(L×W×H)
Weight:75Kg
Machine accessories:
A copy of specification, one set of Allen key, one piece of cross Screw and straight Screw, one piece of scraper, one piece of fuse, 4 pieces of Screw for fixing pad, 1.5 meter of power line.
Customer First Service First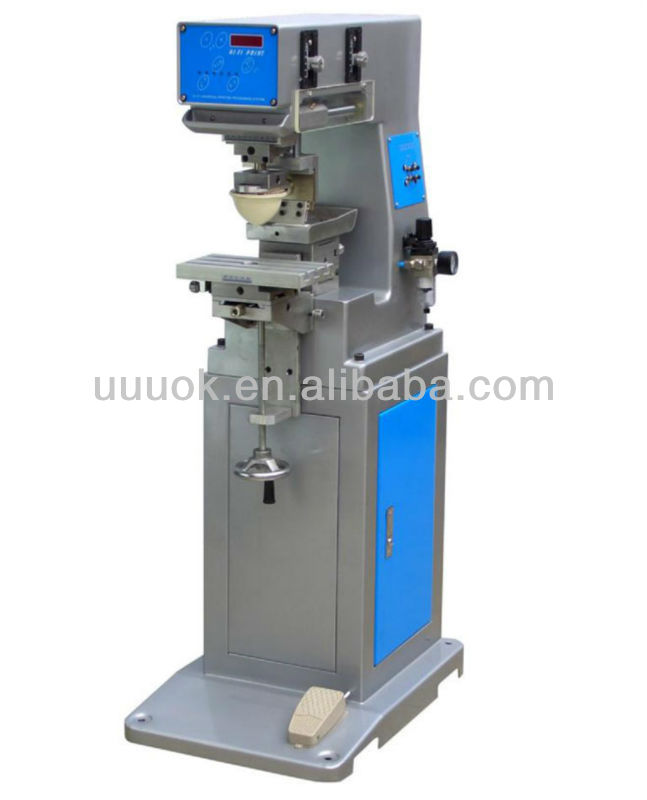 High speed single color pad printing machine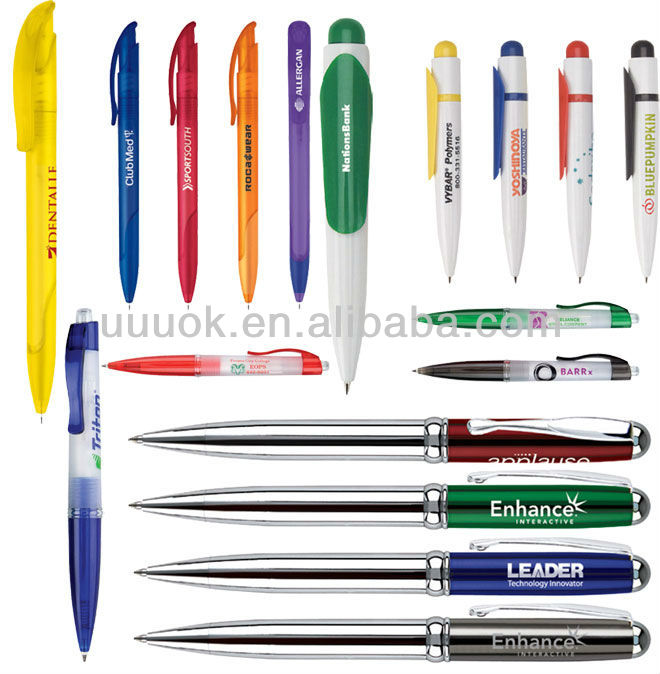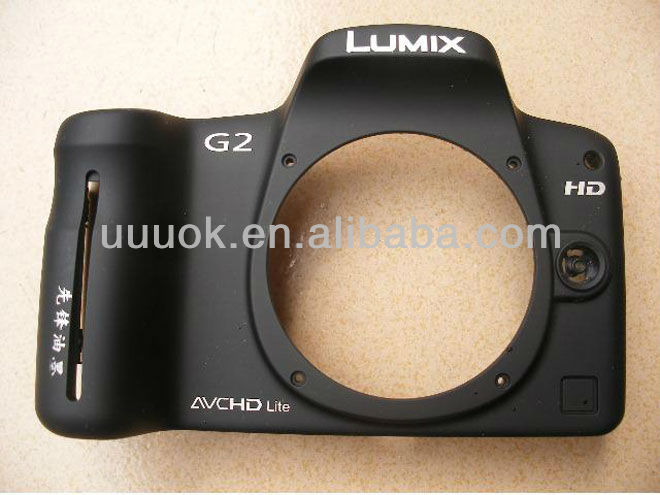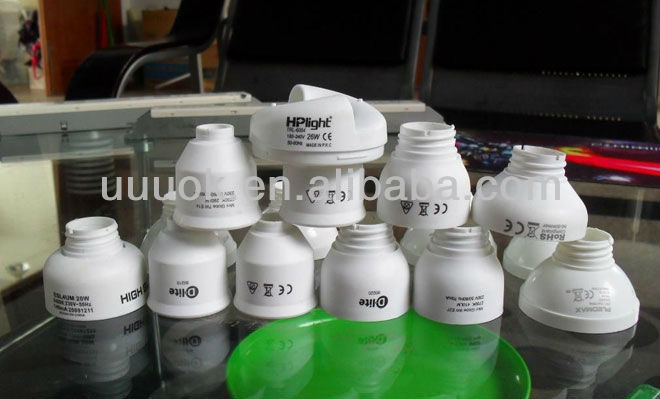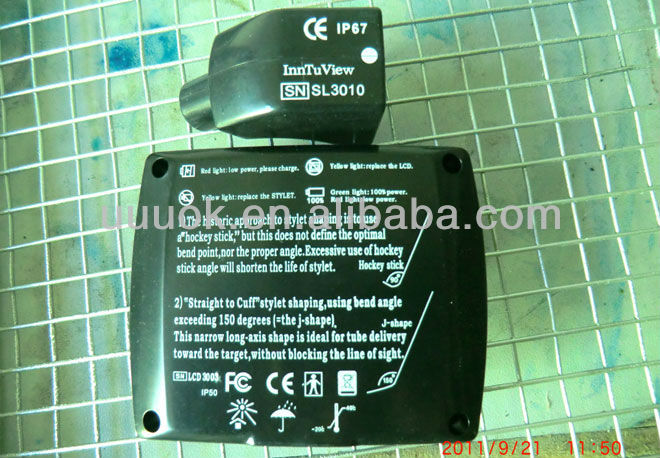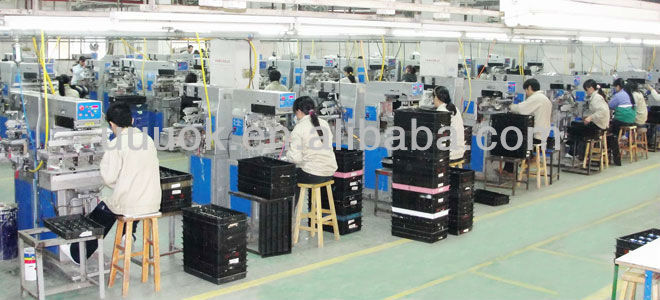 High speed single color pad printing machine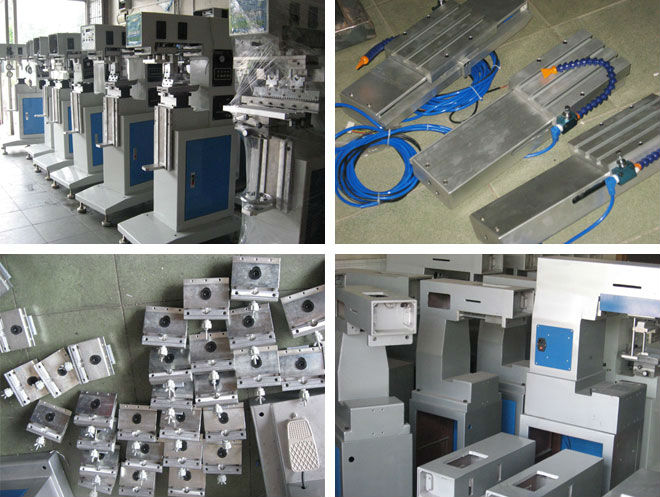 Customer First Service First        

 
High speed single color pad printing machine
Imagination Pad and Screen Printing Technology Trends
For the printing and screen printing, these printing methods are becoming more powerful, higher accuracy, a larger production and lower costs. The past five years, printing and screen printing are applied in many fields and development, such as from car fender-to-high sensitivity of the equipment, computer shell, household appliances, CD, medical equipment and so on.
Ink progress
Application and the quality of ink has been significant progress, printing ink used in closed-end has been widely accepted, because users find ways to save ink consumption, to achieve high-quality ink adhesion, and for staff to create a more healthy working environment. Therefore, the closure of many of today's ink technology is quickly becoming the new system of production standards, in the printing machine and die casting machine on-line when necessary to reduce the solvent content of the workshop, using this approach is particularly ideal Shi ink. Mexico is also particularly suitable for closure of a large number of production needs for high-speed operation of the printing machine to use, quick to use volatile solvents for printing inks, solvent evaporation is too fast, use an open ink tank is not practical. Another advantage is that within 24 hours, the viscosity of ink remained stable, without adjustment, no night right after the printing plate and ink ink knife scraping cleaning.
UV ink for printing is really a major breakthrough, using a special UV drying device, can be wet-pressure wet printing, the printing on the finished produce excellent results. Use of UV technology, a six-color printing cycle can be printed, less than a second inks can be cured, so that you can also overlay a second color. UV printing system can be completely computerized process control, to ensure the best results and optimal drying time for each color, the system can print from paper to plastic, glass and metal and other surfaces.
Improve the production performance
Now printing and screen printing systems use a large number of high-power servo drives, in order to better control the smoothness of the printing cycle, significantly increased production capacity, so that some machines could print 1,000 copies per hour, 3-4 pieces of color live. Servo motor can guarantee that the activities of units operating in the plastic head is more stable, flexible, and more to adapt to the needs of printed items.
Program logic control (PLC) technology, with new energy use, allowing users per piece or per batch of live programming a job becomes very simple, and can store hundreds of good data transfer, the data from the memory real-time recovery.
To achieve on-line production
Pad Printing and Screen Printing Another significant development is the ability to more closely integrate the printing process throughout the manufacturing and production process. For example, the injection molding workpiece shape and size increasing complexity of graphics and text printing is a great challenge. Some companies find a way to accelerate the speed of the printing process, they will print processes into their tightly controlled production schedule, using fully automated printing machines to produce products that meet user requirements. A new printing machine KCNC print area of 3500mm × 7500mm, in a simple, precise control of the trip will be able to print all four colors, once the printing sequence, ink viscosity and colored version of the positioning procedures, will be able to accurately stored to prepare for use when necessary.
The new printing machine is closed ink cup, the laser beam, plastic head positioning and precise sets of plates Quasi system to ensure excellent print results every time. As the ink cup is closed, the amount and viscosity of ink to be controlled to ensure that the appropriate amount of printing ink the surface of the printing and graphic clarity. This is most important for users because many of the printing parts a line down the right away from print packaging. The user to reflect the use of this new machine, ink consumption reduced by 45%, production increased 41%, in addition, the entire process is streamlined to save time and printed parts of the packaging and storage space.
As a part of the entire production cycle, the printing process automation is definitely becoming more common, as some companies are finding their production output using assembly-line benefits. Today's print has been integrated into the entire production process, makes it possible to cope with large quantities of production, and can ensure that the production process of the printing element in a smooth, continuous processing, contribute to workshops throughout the event.
Advantages:
1. Microprocessor control for each function ;
2. 4-Digit auto counter built-in;
3. Coin aluminium structure ensures sturdiness;
4. Ink roller used for ink applying ;
5. Independent stroke and speed adjustment for pad up/down;
6. Auto balanced doctor blade ensures that ink can be scraped cleanly and completely;
7. Adjustable printing speed meets different printing requirements;
8. Ink roller keeps working while pad doesn't lower down avoid ink dry;
9. 1-pad plus 1-ink tray ;
10. One ink trays can be adjusted separately.
Machine Updated Description:
1,Ink tray system updated to ink well system for better environmental protection.
2,Ink tray could be widen to the size of 150*150mm, 300*150mm for bigger printing size.
3,Adding the shuttle working table for acted as two colors pad printer with shuttle.
4,Pneumatic double head pad printer needs two pieces of rubber pads, two pieces of steel plates, one set of tooling ( Be made based on provided sample)
5,Ink, Thinner (function as thinning the ink)
6,Equipped with SMC& Festo Pneumatic Parts
Application:
This pad printer is featured by the higher working capacity. It is also suitable for those products with high printing size requirements. The ink tray and rubber pads could be changed for multi color's printing. Widely used for logo printing on surface such as electronic products, plastic shell, hardware products, stationary, gift set, artistic products, toys etc.
Pad printing machine operation
Etching the plate ( steel ) coated with ink method : etching plate inking in a lot of ways .
First, the ink is sprayed on the etched board with a retractable blade and the excess ink is scraped off . At this time , stay in the erosion area of volatilization of the solvent in the ink and the surface of the gel is formed , and then etching down to the first plastic panel , suction ink.
Suck ink and printed products: plastic head suction plate etching ink big department increased after this time, this layer of ink and a volatile sector , leaving a sector not dried ink surface is more conducive to the object to be printed with the rubber head close combined . Plastic head shape to be able to produce a rolling action to drain the surface of the ink etched plates with excess air .
In the production process of the ink and the plastic head The ideal situation is that all the ink etching the board are all transferred to the object to be printed , in the production process ( approximately 10 microns or 0.01 mm thick, adhesion of the ink is transferred to the matrix ) plastic head printing easily affected by air temperature, static size effect . If the transfer from the etching plate plastic, the entire process to the substrate , the evaporation rate and the dissolution rate control in an equilibrium state is good , it is considered a successful printing . If evaporate too quickly , even before the ink is absorbed dry . If evaporation is too slow, has not yet formed gel ink surface , easy to make plastic head and matrix attachment.
Pad printing machine technical features
* Microcomputer control, functional and practical, easy to operate.
* Architecture using high quality aluminum alloy, light and durable.
* Independent glue down stroke and speed adjustment for easy positioning.
* All used brand pneumatic components, ATM counter.
* Plate size: 100 * 100mm, 100 * 150mm, 100 * 200mm.
* Color adjustment models have color, color, four-color, six-color to choose from.
* Can be customized for individual customers printing system to suit production requirements.
Pad printing machine direction toward automation is the industry consensus. This is to improve production efficiency, reduce costs necessary way , but also printing technology from labor-intensive industries to technology -intensive industries into the necessary requirements.
Currently, the high degree of automation is relatively common printing machine rotary printing machine delivered its printing process is fully automated . Affected by the degree of automation , the vast majority of companies consider the quality of the printing process in the countermeasures issues are still imperfections, even if such a printing machine, in order to complete a truly automated printing but also faces many challenges.
Universal automatic pad printing machine is relatively rare, but specific products targeted automatic pad printing machines still have a lot of surprises. For example , printing the CD automatic printing machine, automatic printing bottle cap printing machines. Pad printing machine automation essentially means that the product conveyor automation , as part of the change is small pad printing . A variety of information on new technologies broadened our horizons, other printing technologies penetrate , let us generate new inspiration, customer requirements will inspire passion printer manufacturer .
Pad printing machine technology since its inception, especially after entering the domestic market , with regard to its obvious advantages are more and more business concerns . It is combined with screen printing technology , co-development of the printing market situation. From the traditional labor-intensive to technology-intensive gradually forward. This is a trend to adapt to world development . Currently , printing machine printing processes are constantly improved and perfected .
Ink for printing technology is essential . Today, the emergence of closed ink can be said printing machine printing technology , a new progress . First, it is energy-saving , environmental protection, because it saves the amount of ink , while health workers also enjoy a more comfortable environment . Second, it saves time and effort , because the long-term stability of the viscosity of the ink , it eliminates the cleaning cartridge after printing , squeegee trouble. In addition, during mass production operation, the use of closed ink is easy to do . It combines the use of staff into consideration the more factor that makes the production efficiency and quality of the further improved.
Currently printing process is also to update the field forward. In order to more effectively put into production , printing technology is gradually completed online production, the printing machine and the entire production and operation of organically combined to form a complete and unified link. Currently printing printing technology is gradually moving towards automation , high-precision systems not only through the quality of printing that accuracy , it is adapted to the needs of mass production . In addition, the pad printing technology is gradually and production environment , consumption and maintenance products form a complete part.
Now with the pad printing machine printing trade descriptions , trademarks and other patterns more and more manufacturers , and exactly why they are willing to choose printing machines as their choice of whether the printing machine 's competitiveness in the wrong ?
In fact ,pad printing machine printing equipment does have many of the same advantages you do not . First, a printing machine can do up to 12 chromatic called multicolor overprint , one will be able to print all the products , thus improving efficiency and saving money , even just a small construction firm can afford these costs , compared to similar products multicolor screen printing machine overprint becomes expensive it. Secondly, it compared the characteristics of screen printing machine ,pad printing machine ink layer is very thin, which means it is easy to leave marks on the surface of any product , whether it is flat, curved or wavy surface , can be a perfect copy printed pattern However screen printing machine in this respect is very complicated, flat screen printing machine can print screen , if you want to print the application surface and will face another wave surface screen printing machine up . Moreover , printing machines with very good color performance and printability , although the pattern printed silk screen technology three-dimensional sense of strong, rugged touch can feel the real sense , but if the types of products than printed ,pad printing machine can definitely be called a panacea, either plastic or metal , whether it is sports or glass, it is a piece of cake for the pad printing machine . Such formal printing machine performance, low price point was completely special completely adapted to this highly developed commercial material society , became the first choice of contemporary manufacturers , such as Ningbo and Shanghai printing machine printing machine is moved printer's producing provinces for the entire society with high efficiency machinery.
Customer First Service First       

 
Groupes de Produits : Imprimante > Machine d'impression de tampon