Machine multifonction album mini 10 en 1
Machine multifonction album mini 10 en 1
| | |
| --- | --- |
| Délai de livraison: | 3 jours |

| | |
| --- | --- |
| Détails d'emballage: | Exportations d'emballage en bois, paquet taille : 1260 * 920 * 1430mm, poids : 350 kg, Mini machine d'album multifonctions 10 en 1 |
| marque: | Inhabilité |
| Lieu d'origine: | Guangdong, Chine (continent) |
Description du produit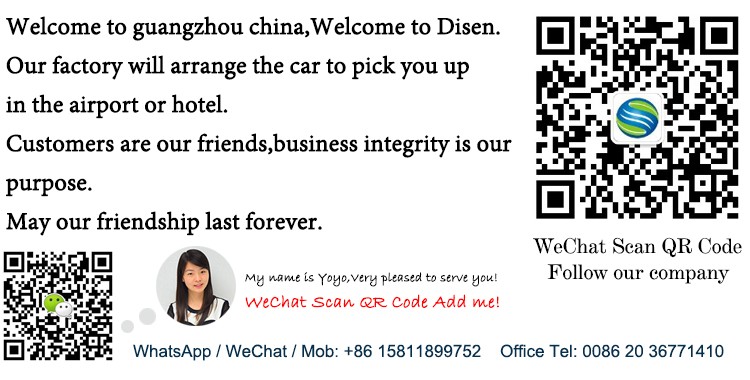 Mini 10 in 1 multifunction album machine
The New 10-in-1 machine has eleven functions : Creasing ,binding ,heat&cold pressing ,corner cutter ,cover making ,edge holding ,cover corner cutting ,grooving and heat trimming .
1.Delicate design for exporting .Multi-dimensional platform can be worked at the same time with high efficiency .Combine electric with pneumatic ,easy operation and make sure the albums without deformation ,tackless and crack
2.Cover making with Trilateral ruler measurement and accurate position
3.The creation of the cover cutter,can help the customers to cut the angle accurately
4.One machine combine making inner sheets with cover of the albums.The CNC cutter with infrared ray to collate and exquitsite function
5.The creasing knife is aluminium alloy , can be creased with delicate marks and not easy to be broke
6.With cold and heat pressing just up to the customers' demand
7.Grooving ,about temperature ,pressure ,grooving plocation can be adjusted according to the customers
8.Digital temperature control instrument , simple operation and constand temperature automatically ,low cost and maintainance is accepted
9.Binding with double-side aluminium keep heating and albums are not be transformative
Mini 10 in 1 multifunction album machine
* Indentation width: 510mm
* Indentation Applicable paper: 100 ~ 550g
* Finishing Width: 510mm
* Finishing Thickness: 5cm
* Flattened area: 550 × 400mm
* Flattening height: 20cm
* Heating Range: 0 ~ 100 ° C
* Power: AC220V / 50H
* Power: 3KW
* Rounded: R3 ~ R10 Optional
* Cover: 18-inch * 24 inch
* Cover Flap: 670mm
* Cover Cutaway: 23mm * 5mm
* Cover the pressure tank: 520mm
* NW / GW: 294kg
* Machine Size: 1190 * 880 * 1230mm
* Wooden Size: 1260 * 920 * 1430mm
* Packaging: wooden box
Mini 10 in 1 multifunction album machine
1. Our 10-in-1 Album Making Machine with CE Certificate is designed based on our 7-in-1 Album Making Machine. It is the latest and creative machine with 10 functions for creating a whole new fashion crystal album, bible, book, magazine, menu.etc.
2. Name of Each Machine Part
1,creasing

2,heat binding

3,cold binding

4, heat pressing

5,cold pressing

 

6,edge folding

7,album book corner cutter

8, album cover corner cutter

9, cover making

10. grooving

11,air compressor bump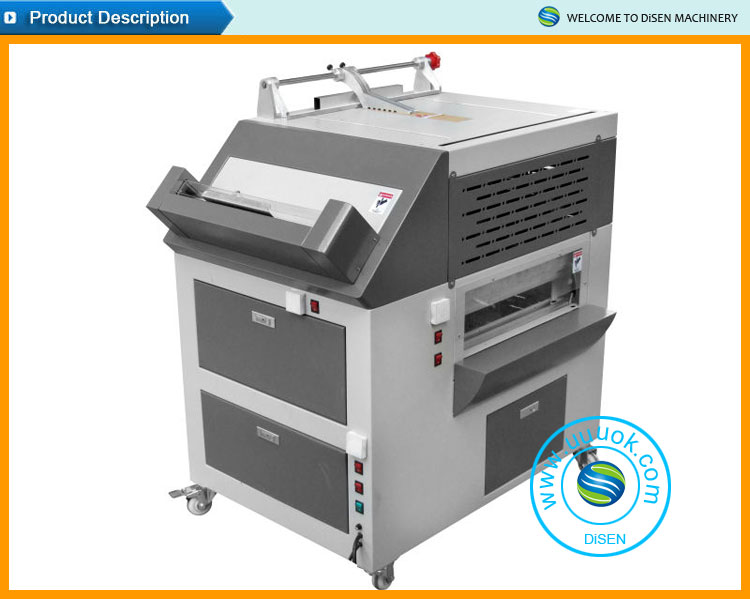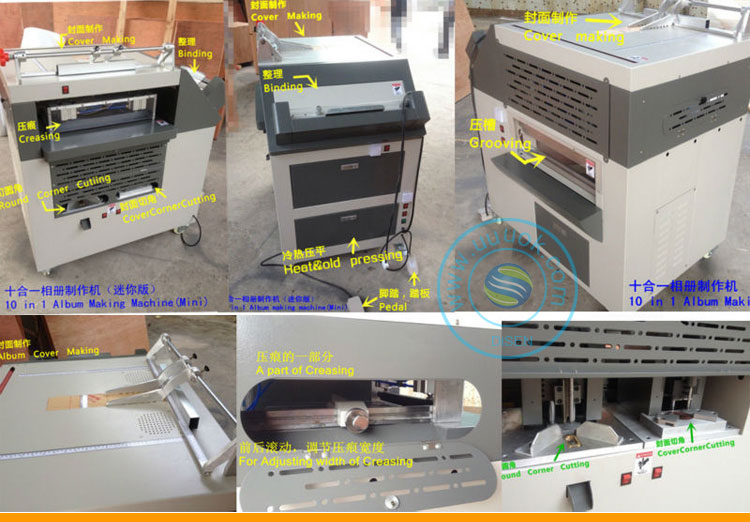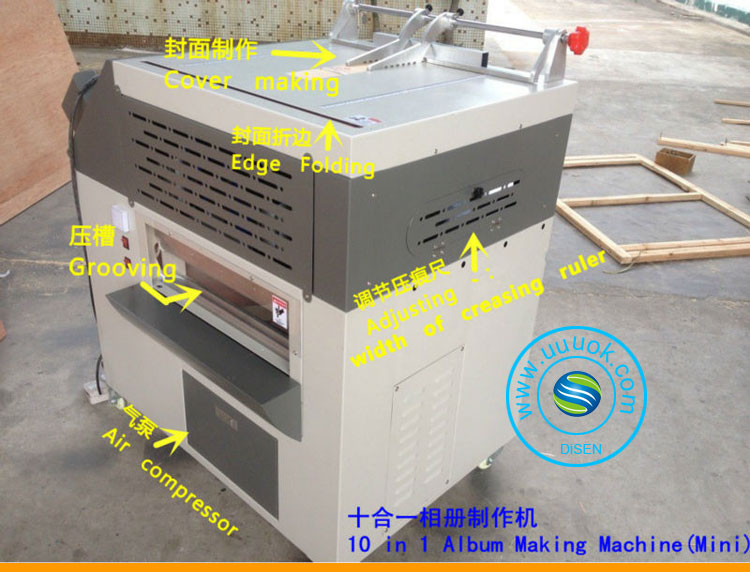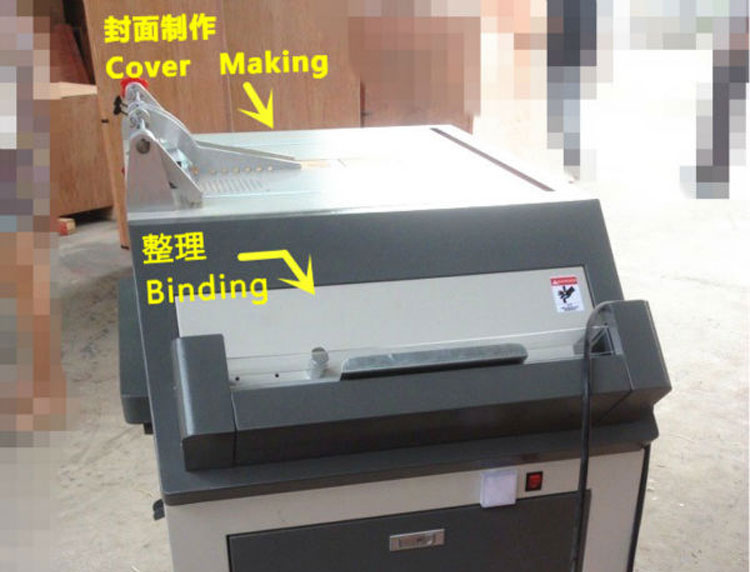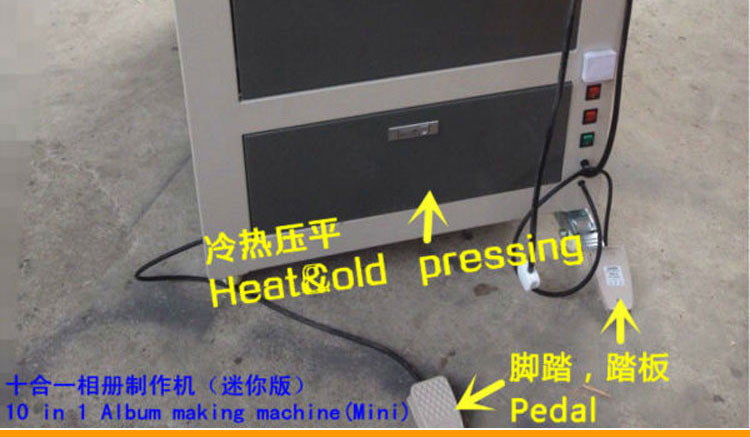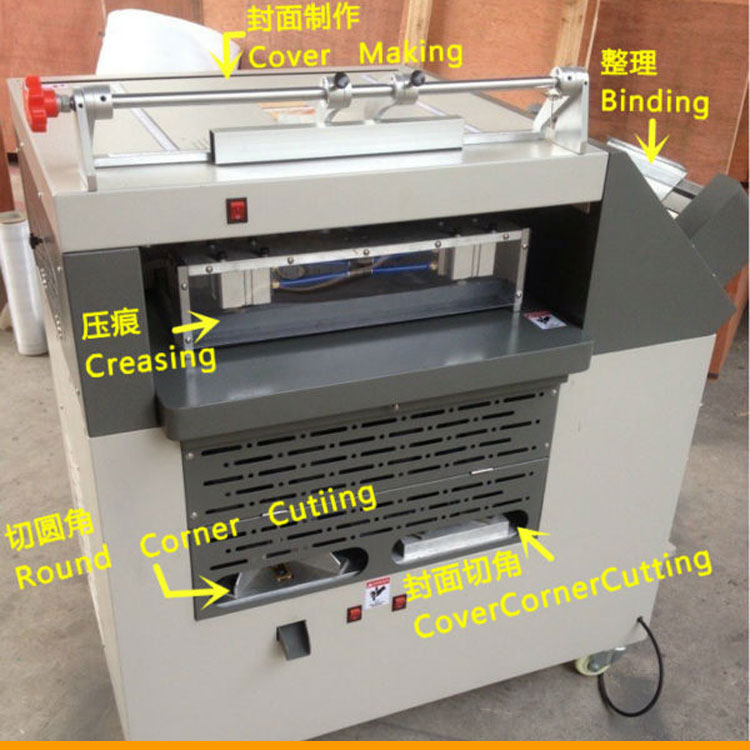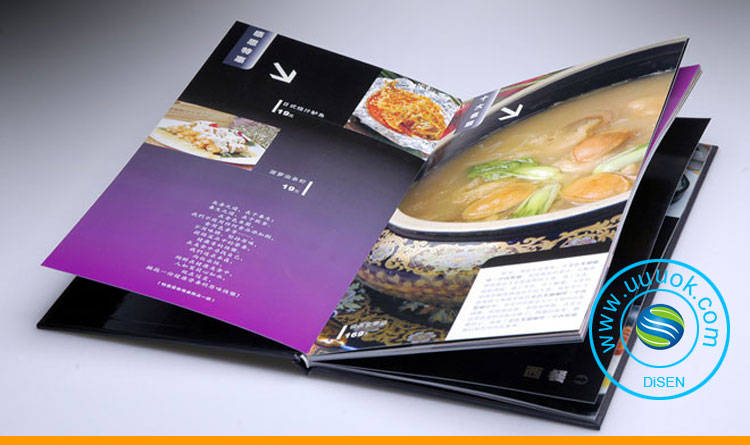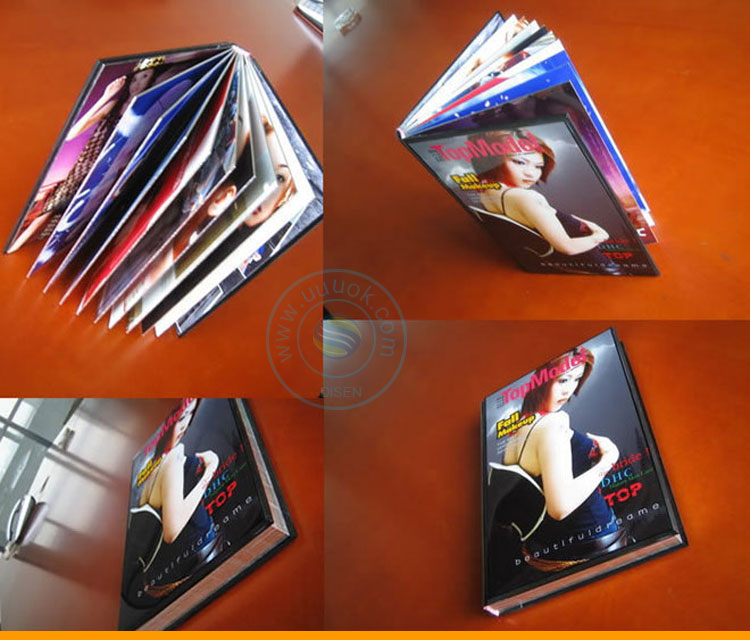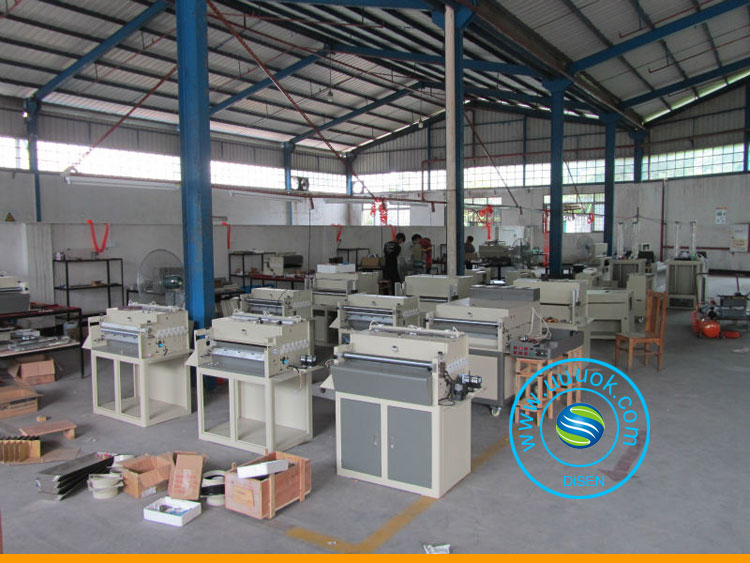 Mini 10 in 1 multifunction album machine
Forming one album called "Bible Album", also known as (South Korea album, lamination album) is a traditional album upgrade
Divided into: leather photo album, crystal surface albums, magazines, books categories.
Its features are as follows:
a, rigorous process, fine: each process in strict accordance with the requirements. It is the full-page photograph mounted stamping process using heat inside pages are pressed together with thickening.
b, beautiful appearance: panel provided by the well-known manufacturers, fashionable, variety, giving a sparkling crystal surface albums feeling, edge processing stress, from Phnom Penh, silver edge, laser edge (Diamond, silver diamond; gold snowflakes silver snowflake; gold highlights, silver highlights, etc.) paint from the system.
c, board formation: feel better, without any inter-seam. d long-term storage is not deformed, not sparkling, if any dirty spots, wipe with a damp cloth, photo lamination using advanced foreign technology, different from the general cold laminating and hot mounted, is a liquid coating methods, waterproof, anti-fade.
d, production equipment: gilt edging machine, the lamination glue, heat-mounted machine, crimping machines, finishing machines albums, albums stereotypes.
Albums Category
Currently album by the production process to sub-divided into two categories: traditional hand forming one albums and albums
Mini 10 in 1 multifunction album machine
Traditional handmade photo album is divided into three categories:
1. A non full album full version
2. full version full album
3. full-page full version without raphe album
Forming one album can be roughly divided into three categories:
1. Common forming one album
2. Bible album
3. Pvc one slim volume magazine
4. Crystal album
Mini 10 in 1 multifunction album machine
The characteristics of traditional handmade photo album
Production process: Photo prepaid membrane, and then physical methods (that is glued) fixed on the photo album page, album page edges have gold or silver metal edging!
1. A non wholly full version Album: put a small photo album is a large, for example: "18 inch album a 18-inch silk photograph, picture a 18-inch oil painting, 18-inch crystal photo a 18-inch Cowhide photos a 18-inch graphic design portfolio 16 "means that there are four of the album is full version of the photo, and the remaining 16 is a combination of small photos!
2. full version full album: album photos are placed within the full version of the (crap!) No small photo!
3. full-page full version without raphe Album: therein photo is seamless across the page! For example: 18 inch album: a 18 album size 18 * 12 inches, then a folio is 18 * 24 inches, this album is to put 24-inch photos, glued to the two, forming a folio page ! The middle is seamless!
The disadvantage of this album are: to see the obvious hand corners and edges inside pages using photo paper, the case of wet deformation, and is easy to fall off pasted photos (glial good is also good).

Forming one album
Mini 10 in 1 multifunction album machine
With the development of album has also been great progress , forming one album is that the two albums produced by technological innovation , production process: production line , after lamination , laminator , flatten , creasing, whole , cut , edging , gilt , fitted leather ten complete production line processes, through a dozen big machine , making a perfect top albums !
Simply put , is to use chemical methods , this is two different substances, photos and album pages , one with manual synthesis is essentially different from the traditional photo album , handmade photo album is a physical form, is glued on the album page photo on !
In addition to "no separation," the obvious characteristics, forming one album there is a feature that is " lamination " normal manual is to attach a photo album "film" , the film is a kind of plastic material, a light film, fine film , striae , painting , laser and other textures ! There are hands touching photos surface can clearly feel the "membrane " exists , with film after photos can achieve the effect of waterproof anti-scratch , forming one album using advanced " oily liquid UV coating " and " lamination technology" in the photograph the surface of the machine with a special uniform spray liquid membrane, from a visual point of view : one piece of photo albums bright color, Branch Chong Laminating machine using liquid embossing technology , embossed effect, can be pressed out of a variety of lines ( oil painting pattern, cross pattern , silk pattern, phoenix pattern, twill , etc. ) , the pressure out of the lines fine appearance , and high efficiency , large output
1. Common forming one album : a "no separation " and " lamination technology" These two characteristics , the thickness of album pages album is no different from ordinary , inside pages are generally used white cardboard, thick .
2. book in the Bible : It is " forming one album ," an upgraded version of the page per thickness was about 1 /3 of the fingers so thick , the whole album is even more thick, the eponymous book in the Bible , of course, is somewhat exaggerated , in fact, of course, than the Bible even close ! Anyway, that is thick ! Then there is the heavy weight, how many pounds did not say too ! Usually silver hot stamping edge or edges.
3. Pvc one thin magazine book : pvc album has gradually spread , inside pages are used to make bank card pvc material, lighter and thinner . Tend to magazines , by now parents alike.
4. Crystal Album: Volume One is an upgraded version of the Bible , one is the one magazine pvc book an upgraded version of the album with the common difference is that the cover material , crystal physiognomy with crystal cover can be put on the cover of the whole site or demi photo, material reasons and due to reflection of external light source , more luxurious grade !
There are also leather books , etc., but the cover plus other materials do not say nothing here .

Traditional wedding album :
Mini 10 in 1 multifunction album machine
Generally by the studio to produce their own , but the photos with double-sided adhesive to the inside page, low production cost . There are obvious edging , corners , long time easy disengagement deformation, especially the rainy and more humid southern regions , albums easily deformed .
Full version wedding album :
Wash out the photos intact , such as the 18-inch album , wash out the photo is 18 inches , which is the full version .
Digital Design wedding album :
The few photos with photoshop background template with a nice combination to achieve good visual effect.
Cross- page wedding album :
After a good digital design , the 18 inch album on the whole surface has brought a big 18 * 2 photo album is spread among the general seam , no seam called seamless digital span pages, but is said to seamlessly easy blistering.
La Mina Crystal box:
The photo down to the MDF and then doused with crystal liquid is cooled forming a crystal , the picture back and crystal package together. Crystal is a glossy , reflective , very clear, after amplification will be very bright . Good cleaning , no box. La Mina crystal plate Bilamina prints a little better, hand touching texture will be different.
Oil painting frame :
Framed oil paintings , elegant , generally up to 60 inches or so , a great time to enlarge the picture frame are generally oil , relatively long shelf life , the same type , the effect is the most stable .
La Mina prints wedding album :
Crystal to be more than a craft, photos or laminating heat-mounted with machine-pressed on the board , is matt . You can choose to do some of the more fashionable photo enlarged pretty full . La Mina prints are compressed material, surface roughness , some pits .
Ramona box:
Is a new form of framed , with advanced technology and equipment through multi-channel processes the photo images directly mounted on the backplane , backplane picture seamless, completely isolated from the air as drawing paper , with high resolution , colorful , Wing do not fade, water, sunscreen, and other characteristics can be scrubbed . Version of the material to be thicker Bilamina .
Bible wedding album :
The full-page photograph mounted stamping process using heat inside pages are pressed together with thick , photos , and photos between some PVC, some jam , the edge is gilt , plus a cover , the price is more expensive .
Mini 10 in 1 multifunction album machine
Disen Equipment: frameless painting equipment, heat-mounted machine, pressing machine, trimming machine, ironing machine, laminating machine, creasing machine, albums equipment, printmaking equipment, arts and crafts gift processing equipment, studio post-processing equipment, woodworking machinery and equipment, frameless painting production equipment, processing equipment, frameless painting, frameless painting production process. Crystal photo production equipment, light solid crystal machine, piano paint equipment, plastic ruler production equipment, hand printmaking equipment, sign making equipment, carpets ginning equipment, weeks carpets devices.
Hardcover album,Magazine album,Leather photo album,Glass Crystal album,Piano paint album,Piano Crystal album,Crystal Dreams Album,Diamond Crystal books,Lace Album
photo album binding machine

Studio Crystal album production program
Mini 10 in 1 multifunction album machine
No need to invest in a film studio equipment Laser minilab photo effect in accordance with the appropriate size of a good future after lamination or cold lamination produced according to the following scheme. )
First, the equipment investment: Creasing Machine + Cutter + Album + UV curing lamps finishing machines
Second, the album material: Main Material: PVC self-adhesive glass auxiliary materials inside pages: UVGLUE the back skin plug-sided adhesive cloth cold laminating film
Third, the production process
1. photo symmetric indentation.
2. albums molding. Self-adhesive PVC inner pages, thrown off the release paper, adhesive booklet with photos.
3. cutter flush cut three sides finished smooth edges, no gilt edges, photo album and keeps no deformation, upscale and elegant.
4. fixed the back. With the back skin, plug cloth, double sided tape to help complete
5. Produce glass cover, complete.
Fourth, the Advantage a program,
1, albums beautiful, self-adhesive materials with PVC inner pages, viscous strong and long, strong weatherability, minus 30 degrees not a plastic, adhesive process strictly, packaging specifications, full size. Album cover with tempered glass, sparkling album is a stylish studio album integrally molded samples.
2, low cost, with a 12-inch 8-on-page album, for example, album materials costs 11 yuan. Studio market competition to reduce costs while optimizing product in order to have a higher competitiveness.
3, another big advantage of a quick and easy registration, finished shortened cycle, about 20 minutes can make a photo album, especially in the studio when the season will soon be able to do it expedited, easy to operate. Low cost, reliable, and is the studio of choice.
Mini 10 in 1 multifunction album machine
A cardboard article looks like a hardbound book at first sight, but it is really a paperback with hard covers. Many books that are sold as hardcover are actually of this type. The Modern Library series is an example. This type of document is usually bound with thermal adhesive glue using a perfect binding machine.
Tape binding refers to a system that wraps and glues a piece of tape around the base of the document. A tape binding machine such as the Powis Parker Fastback or Standard Accubind system will usually be used to complete the binding process and to activate the thermal adhesive on the glue strip. However, some users also refer to Tape Binding as the process of adding a colored tape to the edge of a mechanically fastened (stapled or stitched) document.
Mini 10 in 1 multifunction album machine
Unibind is a variety of thermal binding that uses a special steel channel with resin rather than glue inside of it to give it a more sturdy bind to hold the pages in place. Unibind can be used to bind soft covered documents with a look that is similar to perfect binding. It can also be used for binding hardcover books and photo books. Like Thermal Binding, unibind usually requires you to purchase a one piece coverset to bind your documents. However, Unibind also offers SteelBack spines that allow you to use your own covers in the binding process. The majority of Unibinds covers can be printed on as well to give documents a unique finish. (Unibind is also the name of an International binding company)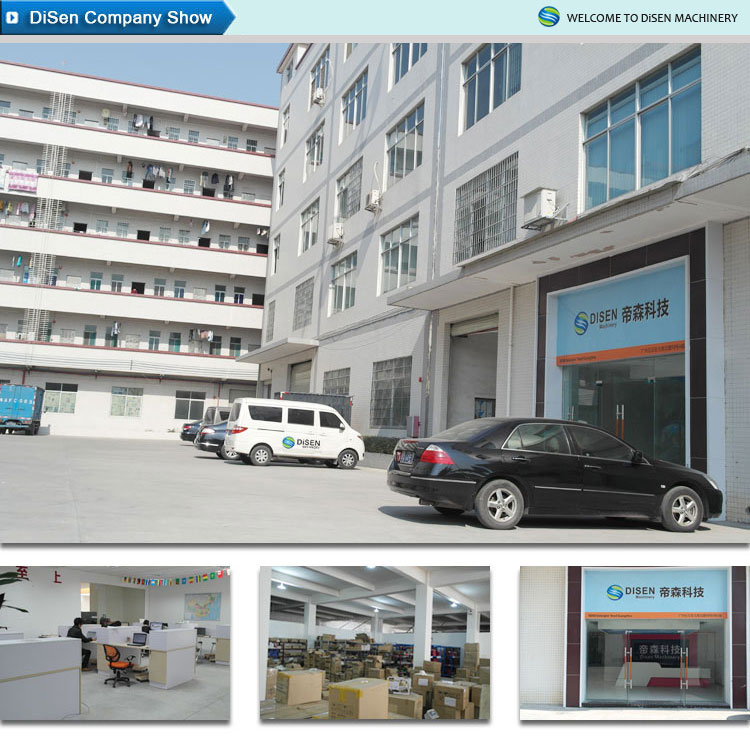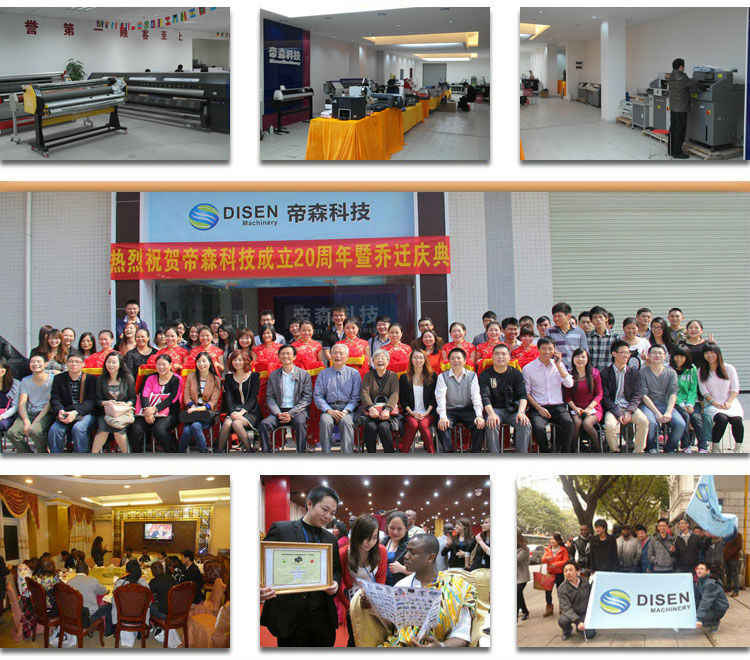 Groupes de Produits : Matériel de bureau > Relieuse